West Quay Market
Posted on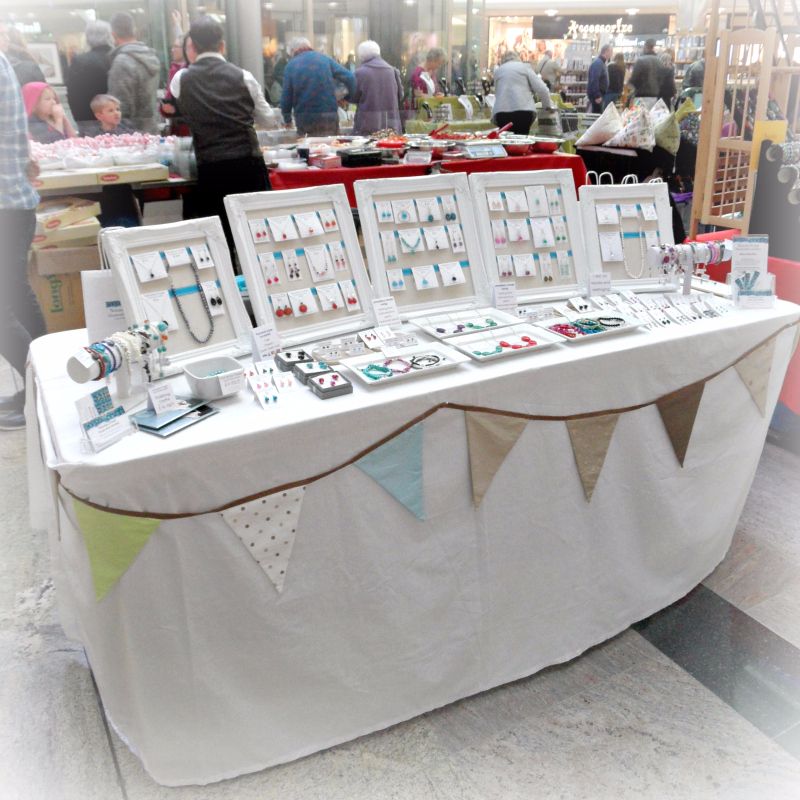 Earlier this month my helper and I headed into Southampton town centre to exhibit at a Bert & Gert's art, craft, and vintage market in West Quay. We were so excited to be in the busy shopping centre to sell our wares but also a little nervous. Thank you to everyone who came down to visit us on the stall, it was lovely to see you all and it made my day to have so much support!

We arrived at 8am, :-( such an early start, and were set up ready for 9am when shoppers started to arrive. We managed to set up quite quickly, this is the most stressful part of the day when stallers are rushing to set up on time, no matter how early or late you are it always seems like a rush. But it is lovely to look around and see the stalls coming together as each table becomes a little personalised art gallery. Making sure everything is neat and tidy is just like playing shop like we did when we were kids, I love it.


There were two items I forgot to take with me this time (I skipped looking at my check-list!)… a mirror, and my business banner for the front of the stall, I was really upset about this. In the absence of the banner we hung the bunting a little lower than usual and it looked good, just not the same.


Once we were set up someone mentioned that we needed to be set up for 10am… even though the information I was sent had said 9am (we got up an hour earlier than needed), never mind we were ready for the earliest shoppers. It was quite slow to begin with but I think that is understandable for early morning, most people want to have a look round first before getting their wallets out. Just before midday things started picking up for everyone. It was the Saturday before Mother's Day so a genius day to be selling jewellery or gifts. There was very good footfall and good custom despite us effectively competing with the high-street shops.


We met some fantastic people who we hope to see again at future markets and there were a lot of lovely stalls and products. Here are just a few:
Ashuq the Olives man from - Finest Organic Food Olives - I'm stood at the turkish delight end in this photo but Ashuq's flavoured olives, garlic, sundried tomatoes, and his own special recipe feta cheese is to-die-for!
The Wild Bandits - so fun, colourful, and well-made
Gorgeous fudge in lots of flavours... this was all that was left of the two tables full by the time I tried to photograph it!
Exhibiting at markets and fairs is important to me for 3 main reasons:
1. Customers can see the beauty and feel the quality of the jewellery;
2. Giving out business cards/flyers builds brand awareness; and
3. Networking with other stallholders and small businesses is invaluable.
When making handmade goods and selling them online you know your products very intimately and often underestimate the difference it makes for other people to see them in person too and fall in love with them. No matter how good your photos are there is no substitute for handling a beautifully coloured gemstone bracelet.
A well-attended market can be a great way to not only sell but also get your name and brand known and build up awareness for your business. Giving out business cards or fliers means people can look you up later and hopefully call back to see you on-line fairly regularly. And in a perfect world not only buy from you on-line but look up your events page and come to see you at more shows. Branding is very important here, I try to make sure my stall, website, business cards, banner, jewellery tags and labels all look similar and follow a branding pattern. So I am easily recognisable if someone wants to come back or look me up on-line.
Networking with other stall holders or event organisers is a massive reason to attend fairs and markets. You can learn so much from others and you just never know how much help you could be to someone else. At this market I spoke to quite a few people of differing stages of their businesses and managed to learn quite a few tips. I hope to see some of them at the next West Quay event in June. Also, they are a great source for sharing details of other well attended events.
All in all we had a tiring and long but really good day. The market went well; we met some great people, shared some good laughs, ate fudge, olives, and feta cheese (not all together), and sold some jewellery. At the end of the day we were ready to fall into our beds and sleep.
Until next time :-)
Natasha x
Natasha Fraser Handcrafted Jewellery
www.natashafraser.com
My next event is Saturday 28th May at the Totton & Eling Art Festival
and my next West Quay Southampton event is Saturday 25th June. See you there!